After this weekend's baking project, I wish I were on a nice beach instead of creating mini edible vacation scenes.  A friend of a friend is getting married and the theme of her bridal shower: her honeymoon in the Caribbean.  As soon as I heard that, I had the perfect idea in mind.  I suggested doing a beach theme: half sand and half ocean with a couple seashells scattered on the cupcake.
This was one of my more organized baking endeavors. The execution went just as planned (save for one minor design kink, but that's what test cupcakes are for) and I finished an hour ahead of schedule.  The baking went smoothly, the frosting wasn't a complicated fiasco, and cutting and shaping the fondant was a breeze.  Why?  B/c I used my homemade fondant for this.  I really don't know why I keep thinking that MAYBE using ready made store bought fondant would be better; it's like I keep going back to it thinking it'll be easier and faster than making my own, thinking that hey, maybe this overpriced factory processed fondant will work this time, maybe it's changed for the better and won't try to piss me off so quickly or be so difficult… but no.  Purchased fondant is just like that bad relationship you can't get rid of until you meet this NEW wonderful home made fondant and learn to open up to it.  How's THAT for an analogy, eh?  Life lessons AND pretty baked goods all in one website.  hahaha
Back to the cupcakes.  I rolled out homemade yellow fondant and punched out stars and then hand shaped them into little starfish.  I felt like the tiny starfish wasn't enough, so I cut out forms to hand shape into those skinny, long, swirly-looking shells (kind of like conch shells… but not…).  I took a couple of the "reject cupcakes" (smaller or misshapen cupcakes) and used them as test subjects.  I frosted half of the cupcake and then patted brown sugar on it to resemble the "sand".  (BTW, graham cracker crumbs will also work, but the texture of brown sugar is much closer to sand.)  Then I piped wavy rows of  blue frosting for the water, and then pressed one of each shell onto the cupcake.  It looked pretty much as I imagined in my head  =)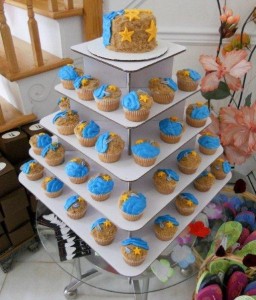 I was also requested to make a small cake for the event in the same design as the cupcakes, so I cut out larger stars to shape into bigger starfish.  I pressed the brown sugar on the cake first, then piped the ocean waves.  And I used extra icing to "glue" the fondant shells onto the top and side of the cake.  Pretty cute, right?  I was happy about how these came out.  The bride texted and said they were amazing and perfect and my friend (one of the maids of honor) said they looked awesome and tasted delicious.  I think I can say from the sound of things, this was a job well done.  haha
I punched out extra stars and made some extra cupcakes to donate for this West Islip Family day event.  They're going to give my cupcakes out as one of the prizes and my cards will be passed out.  I'm not really looking for more business or press around here since I'd like to be out of this house soon, but I have a ton of cards so I might as well distribute them.  Couldn't hurt, right?  And I don't feel too shabby about helping a good cause, either.
Taking a hiatus from baking for a couple weeks.  This has been too exhausting with work.  I need to recharge…